This
post
was originally published
here
By Langton Ncube| The Morgan Tsvangirai led MDC said President Emmerson Mnangagwa's administration should revisit the land policy and equally distribute land to all citizens including the opposition supporters.
Government embarked on a controversial land reform programme at the turn of the millennium which mostly benefited Zanu PF top brass and war veterans.
The former Robert Mugabe administration then, removed former white commercial farmers from their land and replaced them with a few Zanu PF elites.
In a statement Tuesday, MDC-T spokesperson Obert Gutu, said the new government should revisit the controversial land reform programme and make sure that every Zimbabwean gets land.
"In fact, the MDC would like to call upon all i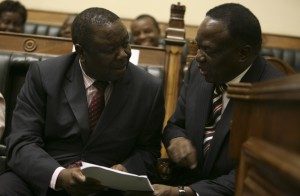 Tsvangirai, Mnangagwa, secret deal?
ts supporters who are in need of agricultural land to promptly apply for land allocation at the relevant government departments. All deserving Zimbabwean citizens, including MDC supporters, shouldn't be ashamed of applying for land under the land reform program," said Gutu.
Gutu said his party never opposed the land reform.
"All we have been clamouring for is that the land reform should be undertaken in a holistic, sustainable and non–partisan manner," he said.
"Those Zimbabweans who grabbed several farms under the land reform program should be made to relinquish these multiple farms and remain with only one farm per family to enable other landless Zimbabweans to also benefit from the land reform exercise. The land reform program shouldn't be abused and bastardised in order to create land barons," he said.