This
post
was originally published
here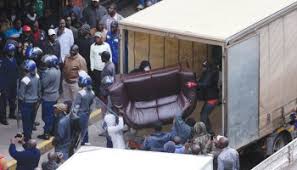 The Morgan Tsvangirai-led MDC property recently attached over a $108 000 debt owed to the party's former employee — Sally Dura — is set to be auctioned on Friday.
Dura, along with 15 other ex-MDC staffers, won an arbitration award for $600 000 for unfair dismissal.
Following the award, the MDC is said to have appealed at the Labour Court, but lost.
The applicants then applied for the quantification of the award. Dura is owed up to 27 months' salary arrears, damages for 36 months, among other benefits.
MDC, under case# HC 2411/17, will lose several pieces of furniture, including a four-piece maroon lounge suite. The labour-backed party has a series of disputes with its former employees.
Last month, the MDC headquarters was left empty after the Deputy Sheriff pounced on the opposition party's offices.
They disrupted a meeting that was being presided over by Tsvangirai, who ordered his lieutenants to allow the surrogate to do his job, peacefully. MDC supporters and officials heeded the long-time President Robert Mugabe rival's directive hence the exercise was done without incident.
In 2015, the Deputy Sheriff raided Tsvangirai's residence in Highlands and the party headquarters but failed to attach any property.
This was after the MDC reportedly terminated contracts of 13 security aides in August 2010, before the Labour Court reversed the decision and ordered the party to reinstate them with full benefits.
Judge Justice Priscilla Chigumba ordered the party to pay a five percent interest on the varying amounts awarded to the employees in addition to the legal costs.
The Deputy Sheriff left Tsvangirai's house and the party headquarters empty-handed after the MDC produced a court order staying the execution.
Some MDC senior officials alleged that the development was the work of Zanu PF.
"They (Zanu PF) want to harass us ahead of the 2018 elections. We were having our meeting and they disrupted (it) . . . This is a small issue; they cannot stop us," MDC Gweru urban Member of Parliament Sessel Zvidzai said during the attachment of the property. Daily News