This
post
was originally published
here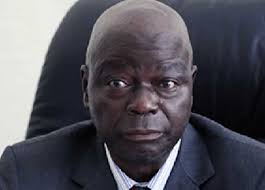 gutted…Dzikamai Mavhaire
Staff Reporter| Error or Decorum? The state owned Herald paper Saturday afternoon "smuggled" Joice Mujuru aide Dzikamai Mavhaire's name into their live news updates of Robert Mugabe's Gwanda rally.
Mavhaire in 1997 became the first MP to publicly call for a stripping down of Robert Mugabe's tenure in office.
Mavhaire was at present said to be inside the President's Youth Interface rally taking place at Pelandaba Stadium in Gwanda, Matabeleland South. But a furious Mavhaire rubbished the story saying he is actually in Masvingo. He said there is no away he could ever attend a Mugabe function. Below is the interview:
Mavhaire: Rally, we did not have a rally, we had a convention.
Qu: But The Herald is saying you are at the President Mugabe's Gwanda rally.
Mavhaire: Do you know my name?
Qu: Yes, Cde Mavhaire.
Mavhaire: I can't be with that old man, his time expired long back. It's either he is abusing the Zim people, or that the Zim people are abusing him. Who can there be a president who sleep every minute of his life?
Qu: It was shocking because we know you were the first person in parliament in 1997 to call for an end to Mugabe's tenure.
Mavhaire: Thank you very much for responding. Tell dreamers, to stop dreaming,
Qu: They have printed your name, "Dzikamai Mavhaire" in full – "Cdes Simon Khaya Moyo, Dzikamai Mavhaire, Christopher Mushowe and Sydney Sekeramayi are here too…"
Mavhaire: Utter nonsense. As I speak I am in Masvingo in my farm picking tomatoes after a very successful convention which you call congress. My leader is Joice Mujuru not Robert Mugabe. Tell someone that I could never associate myself with that man, .